Management Strategy Department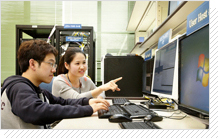 Management Strategy Department consists of the following four sub-sections : (1) Management Planning Section, (2) Institutions Planning Section, (3) Budget Planning Section, and (4) Ethical Management Section.

We are in charge of building a master plan related to the management of the Institute. Our Department's ultimate goal is enhancing customer satisfaction of organization and research results. We are on the process of developing the management direction of Institute, H/W to carry forward, and also providing feedback from the customer's opinion.

Our department is carrying out tasks from the National Assembly and the government requirements, regarding developmental strategy of Institute, internal organization culture and improvement of external integrity. We will do our best to our customer's full satisfaction, on the forefront of a leaping, rational, and open management goal of ETRI.

Executive Director CHOI, Won Yong