Future Technology & Strategy Research Laboratory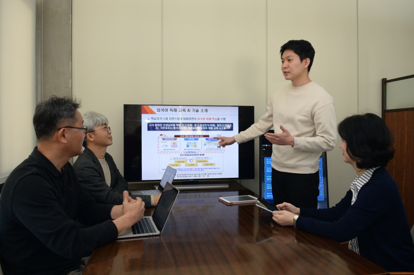 The Future Technology & Strategy Research Laboratory is responsible for the planning of R&D in relation to the development of core ICT technologies for the future. Our laboratory aims to realize integrated technology planning on behalf of the Korean government to secure core ICT technologies in the field of technological convergence between ICT and industry.

To achieve this goal, we have two division, one departments, and one center: The Economics of Technology Research Division studies the requirements of those technologies that are likely to be in high demand in the near future. In addition, it analyzes the economic, social, cultural, and political effects of such technologies. The Future Technology Research Division conducts research and planning into future technologies. The Project Strategy Department develops resource allocation strategies for future technologies. The Protocol Engineering Center is responsible for the standardization of ICT technology. In addition to these divisions and center, the Research Information Service Section is responsible for knowledge information management (for example, library and ETRI Journal).

Our laboratory is helping to drive a new industrial revolution through integrated planning of future technologies for the hyper-connected society, intelligent machines, and ultra-realistic world.
Vision

Laboratory for planning of R&D for integrated technology planning of future technologies, for a better future.

Goal

Policy-technology-standards-business planning of core ICT technologies to drive the fourth industrial revolution.

Senior Vice PresidentKim, Bong Tae
TEL.

+82-42-860-6621

FAX.

+82-42-860-6504
Future Technology & Strategy Research Laboratory

Research Supporting Section

Intellectual Information Service Section