Intelligent Convergence Research Laboratory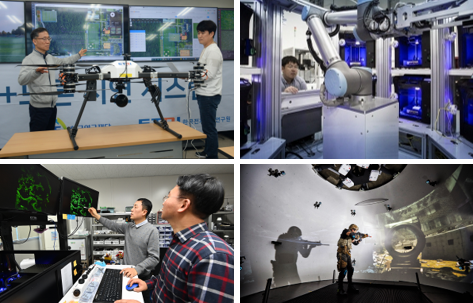 Hyper-connected Communication Technology is a technology that creates a borderless future, which allows and enables people and various things(including but not limited to space, a living organism, information, business) to connect seamlessly, and communicate and interact each other closely.

Hyperconnectivity allows knowledge and technology to be interconnected and converged, and within this process, this technology catalyzes an acceleration of innovative advancement. Accelerated convergence will result in the birth of a new knowledge worker, and advanced transformation and innovation. Moreover, with artificial intelligence(AI) technologies, hyperconnectivity will lead to a paradigm shift that blurs the boundaries in almost all industries and create an accelerated revolution. In other words, hyperconnectivity with intelligence technologies is expected to lead us to the Fourth Industrial Revolution.

To realize the Fourth Industrial Revolution, a new concept of the Hyper-connected Intelligence Platform is inevitable. We, Hyper-connected Communications Research Lab(HCRL), define this new concept of the Hyper-connected Intelligence Platform as the Open Digital Connectome(ODC).

This Open Digital Connectome refers to the platform where interconnections and networks operate like how neurons and synapses connect and work in the human brain. As if all neurons in the human brain are closely interconnected(connectome), the ODC will serve as a hyper-connected organic cluster where both people and things(space, living organism, information, business) can closely communicate and interact.

The ODC will create creative and disruptive innovations, and will serve as a key enabler to lead the Fourth Industrial Revolution of our nation to realize the future intelligent society.

To accomplish the fulfillment of the ODC platform, HCRL is currently implementing various leading research projects as follows:

- Trust networking technology that ensures end-to-end security and privacy
- Smart Data creation and context-based control technology based on the information collecting, analyzing, reasoning and learning from things or user devices
- Autonomous networking technology that efficiently facilitates application-specific configuration for various requirements from future applications, and supports optimized information delivery capability
- Distributed computing technology that intelligently identifies and processes vast amounts of IoT information at the network access point
- Platform technology with self-learning and adaptive autonomous intelligence that can process massive information generated by the hyper-connected things of physical space and cyber space

HCRL will develop leading-edge ODC technologies that will become the core of the Fourth Industrial Revolution and will lead to the secure, safe and smart hyper-connected society.
Vision

The Game Changer of Secure, Safe and Smart Hyper-connected Communication Technology

Senior Vice PresidentPark, Jong-Hyun
TEL.

+82-42-860-5373

FAX.

+82-42-860-1648
Intelligent Convergence Research Laboratory