Administration Division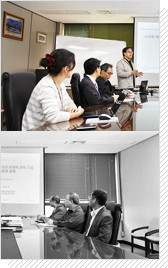 The Administration Division consists of the Operations Management Department, the Human Resources Department, the Financial Management Department and Construction Center. The Administration Division conducts various events hosting, safety and security management, facility maintenance etc. Also, the division aims to carry out human resources management, asset management etc.

The Administrative Division's goal is to establish "Global Standard Administrative System". In order to achieve this goal, the division aims to implement the following strategies.

First, we will seek to improve administrative culture, administrative digitalization, and administrative process for sustainable growth.
Second, we will create a free and creative communication space, and a safe, lively research environment.
Third, we will improve the human resources system to promote cooperative and creative organizational culture.
Fourth, we will strengthen customer-friendly financial administration services.

Our division will do our best to enhance ETRI's capacity in this rapidly changing technological environment.





Assistant Vice PresidentLee, Sung jin