Terrestrial & Non-Terrestrial Integrated Telecommunications Research Laboratory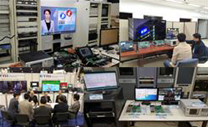 Telecommunications & Media Research Laboratory is researching three major fields: communication, media・content, and radio・satellite including 5G and Post 5G (5G +, 6G) mobile communication which is the essential infrastructure of national growth, hyper-realistic/virtual broadcasting/digital contents for realizing everyday digitalization, and radio/satellite fields that are invisible but essential to the hyper-connectivity era.

In the communication sector, there are Future Mobile Communication Research Division and Network Research Division. Future Mobile Communication Research Division develops social issue solving technology with 5G, 5G convergence technology to other industries, and original technology of Post 5G. Network Research Division develops information/knowledge-based networking technology and ultra-speed・ultra-wideband・ultra-low-delay optical network technology.

In the media・content sector, there are Media Research Division and Creative Content Research Division. Media Research Division develops hyper-realistic service technology that breaks the boundaries between virtuality-reality and the next-generation broadcasting・media original-standard technologies. Creative Content Research Division develops digital contents technology for realizing human-centered digital life and next-generation content original technology for digital arts・technology.

In the radio・satellite sector, Radio & Satellite Research Division supports Korea telecommunication policy through research on frequency, propagation environment analysis, satellite communication・broadcasting.

In the future, the Telecommunications & Media Research Laboratory will become the 「Global Technology Leader」 with the world's best competitiveness in the fields of communication, media・contents, and radio・satellite.


Senior Vice PresidentBAEK, Yong Soon
Terrestrial & Non-Terrestrial Integrated Telecommunications Research Laboratory