ICT Materials & Components Research Laboratory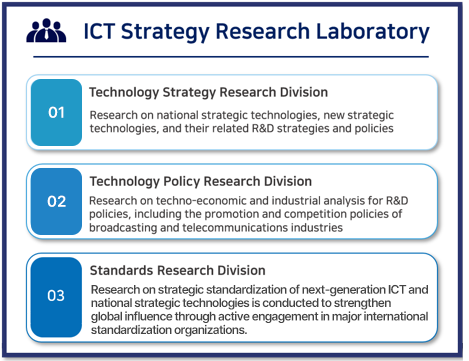 ICT materials and components refer to the intermediate products with electronic functions that are inserted from material to assembly stage in the process of ICT final products. As the foundation of the national industry, the ICT materials and components industry plays a crucial role in enhancing the competitiveness of domestic ICT products.

Recently, with the banner of the 4th Industrial Revolution, ICT convergence technologies such as artificial intelligence, IoT, AR/VR, wearable smart devices, 3D printers, autonomous vehicles, drones/robots, and smart factories are globally researched and developed. The success of the 4th Industrial Revolution is premised on the development and dissemination of new and diverse ICT materials and components that have never been on the market.

To realize the 4th Industrial Revolution, ICT Materials and Components Research Laboratory is focusing on the research and development of ICT core components such as intelligent semiconductor devices, AR/VR devices, hologram panels, composite sensors, 3D printing components, power semiconductor devices, energy transforming/harvesting devices. Moreover, ICT Materials and Components Research Laboratory is also focusing on the development of the high-value-added components that are linked to systems and services such as broadcast, mobile communication, optical communication, and quantum communication.

By creating synergy from the collaboration with industries and research institutes domestic and abroad, ICT Materials and Components Research Laboratory also will do its best to help domestic component companies to take the lead in new markets and become global mid-sized enterprises making Korea a strong nation in the field of ICT materials and components.
Vision

Innovator of ICT materials and components leading global market

Goal

Development of ICT materials and components for realizing the 4th Industrial Revolution

Senior Vice PresidentEum, Nak Woong
TEL.

+82-42-860-6500

FAX.

+82-42-860-6836
ICT Materials & Components Research Laboratory

Research Supporting Section

SMEs Support Section

Materials & Components Future Research Section