Content Research Division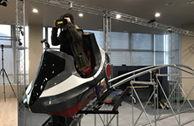 Content Research Division aims to secure global competitiveness by developing core source technologies for digital and cultural content in order to realize hyper-realistic metaverse services that maximize communication and experience as well as fusion of virtual and reality.

We are developing hyper-realistic content technology, five-sense emotional interaction technology, and intelligent content understanding technology to lead the next-generation content development trend and real-world convergence experience technologies which are spreading out to content intelligence, immersiveness, emotionalization and convergence.

In the field of hyper-realistic content technology development, we are developing technologies including high-quality wide-area spatial 3D reconstruction, XR(VR/AR) education/training/concert content supporting large-scale interaction, medical twin-based remote rehabilitation, plan-optic (lightfield) content, digital hologram content, high-quality digital human content, and 3D asset construction/management technology.
We are also trying to apply our technologies to other industries and services as well as metaverse.

In the field of developing five senses emotional interaction technology, we focus on developing five senses recognition/reproduction, neuro content, micro-motion tracking/recognition, dementia/lung disease management content, emotional interaction technology, and realistic sports/education/training technology. We are also providing content users more realistic immersive environment by merging our technologies to XR technologies.

In the field of intelligent content understanding technology development, we develop content analysis/search/recognition, situational awareness, real-time human knowledge enhancement, game artificial intelligence, copyright protection, and utilization activation technologies to provide an environment for determining and consuming content like humans.

The hyper-realistic metaverse future core source technologies being developed by the Content Research Division are expected to serve as key growth engine technologies that drive shared growth of other industries in the era of the 4th Industrial Revolution.

Assistant Vice President JEONG, IL Kwon