City & Transportation ICT Research Department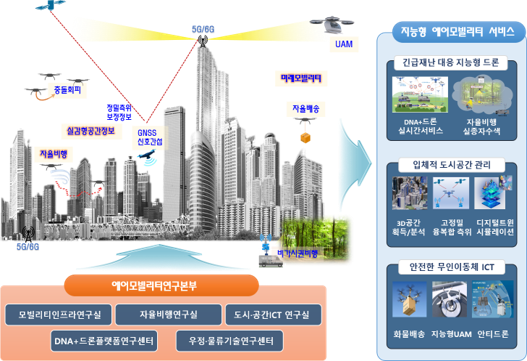 Our department consists of 3 research sections including the City & Geospatial ICT research section, the Cognition & Transportation ICT research section, and the Postal & Logistics ICT research section.

The City & Geospatial ICT research section is conducting research on Intelligent Convergence Technology that enables smart intelligent city and smart space. We have been conducting research and develop on 5G-based smart city service platform technology to improve city competitiveness and the quality of life of urban people. We also researches and develops the next generation of spatial information fusion and core technologies that will lead the 4th Industrial Revolution and realize the intelligence information society of city and traffic area. Specially, we realizes Digital Twin City, which is virtualized reality of urban scale, through next generation spatial information ABC+D technology (geo-AI, geo-BigData, geo-cloud, geo-CPS).

The mission of the Cognition & Transportation ICT research section is to define societal issues on current and future transportation area and to provide solutions via mental model based human factor in-depth research and UI/UX based ICT development. The main research areas are (1) the transportation information collection/analysis/visualization (2) DVE (Driver, Vehicle, and Environment) monitoring (3) the transportation vulnerable assists (4) human factor in-depth research and human transportation interaction (5) defining the future transportation problems and providing the solution technologies and (6) the decision making algorithm based on the mental model.

The postal & logistics ICT research section conducts dedicated research on (1) development of mail acceptance, sorting and delivery core technology, and postal field application (2) construction of drone delivery infrastructure, development of intelligent control technology for drone delivery, and field demonstration, with the aim of providing efficiency of national logistics and infrastructure based on logistics innovation.

Assistant Vice President LEE, In Hwan