Edge Computing Application Service Research Section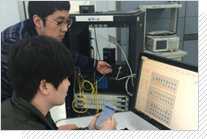 We are researching and developing low-latency / intelligent edge networking core technologies for the advancement and intelligentization of local specialized industry through the fusion of traditional industrial operation technology and ICT. In particular, we are researching and developing technologies for data acquisition and analysis software platform for intelligent edge gateway and intelligent edge gateway hardware platform capable of accommodating various legacy protocols, as well as time sensitive networking technologies such as precision time synchronization technology, time-based scheduling technology.
In order to apply core technologies, we are researching and developing real-time control communication technology for control platform of DC transmission and power conversion device, FEMS and BEMS solution based on artificial intelligence using the intelligent edge gateway according to the demand of related industries, in addition, we are promoting commercialization by securing commercialization technology that can be used in actual field.

Director KIM, Sung Chang