Media Research Division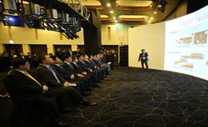 Media Research Division is developing world's best next-generation broadcasting∙media core original-standard technologies, and application service with the goal of realizing hyper-realistic service that breaks the boundaries between virtuality and reality beyond space-time constraint.
Media Research Division consists of Media Broadcasting Research Section, Media Coding Research Section, Immersive Media Research Section, Media Intellectualization Research Section, Digital Holography Research Section and ETRI-Busan Joint Research Section.
In the meantime, we have accomplished the world's best research and development achievements that have leaded the Korean broadcasting, media industry including ATSC 3.0 technology, next-generation AV encoding technology, high presence feeling UWV technology and digital signage technology.
Currently, our major fields of research are media transfer research, media compression research, realistic media research, media sematic research, digital holography research, media-based digital social innovation, and XR-based realistic media service platform research. Our ultimate goal is to create world-class hyper-realistic global broadcasting and media services and to lead the development of global broadcasting media.

Assistant Vice President LEE, Tae Jin