Information Strategy Department
Information Strategy Department is an institute-wide integrated Research and Development support department. The department is comprised of three sections: (1) Quality Innovation Section, (2) Research Information Service Section, and (3) Information System Section, carrying out several roles and duties to assist all other departments by delivering technical and research information services.

Quality Innovation Section endeavors to provide the consulting services and assures their effective contribution in research quality management including ISO9001 and ETRI's own Quality Management System called Q-mark.

Research Information Service Section is concerned with managing scholarly research outputs of ETRI, and conducts an in-depth analysis on effective research topics and its performance.

Information System Section is practicing the management of network and software infrastructure, ETRI's Information System and Security Systems.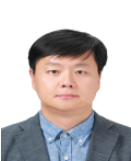 Executive Director YI, Sung Won