Human Resources Department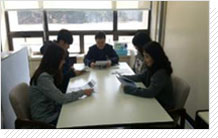 The Human Resources Department consists of five Section: the Human Resources Planning Section, Personnel Resources Management Section, Education & Training Section, AI Learning Section, and Labor Relations Section.

The Human Resources Department aims to create and develop human resources which are known as "future creators with Challenge, Creativity, and Communication."

We also pursue harmony between our personnel's work and life by creating healthy working environments, a high quality of welfare, and healthy labor-management relations.

Furthermore, the Human Resources Development Department will continually cultivate globally competitive professionals with humanity, creativity, and communication skills. These sincere efforts will contribute to ETRI's advancement as a world-class institute.

Executive Director KIM, Kee Jung