Financial Management Department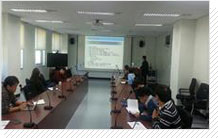 Financial Management Department consists of the following three sub-sections : (1) the Accounting Management Section, (2) the Procurement Management Section, and (3) the Asset Management Section.

Aligning with the mission of the Institution, Financial Management Departments put best efforts to achieve our vision in establishing transparent accounting system, providing on-time purchase for both internal and external clients.

And also, as a research institutes funded by Korean government, we will strengthen the social role of science and technology in allowing an easy access to the research infrastructure at ETRI for our partners including SMEs.

Executive Director LEE, Sung Jin